We've had quite the interesting fur baby situation in my household this week! We've had a little house guest. I agreed to dog sit for my aunt while she was at the beach. Her dog, Baby, is the world's calmest dog. Well most calm dog ever meets Tilly aka ms. hyperpants and that's an odd combination! Here is a picture of these two on Day 1: calm as cucumbers. (And yes, I know Tilly needs a haircut BADLY). Unfortunately, I've had a crazy busy week between work and the gym so I didn't get a chance snap more pictures of these two. But let's just say that I think Tilly enjoys ruling our roost. She is the ultimate Alpha female.
Skye and I have been seriously talking about getting another dog. After this week's experience having 2 inside dogs to manage and wrangle, I hereby redact my want for a second inside dog. Plus, Tilly is a complete psycho and she's enough dog for me to handle at this point.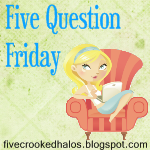 1.
What advice would you give a couple getting married?
Never give up. Some people in your life are worth fighting for - hopefully your soon to be husband is one of those people. If they are worth fighting for then you can never give up. I think a big problem with divorce is that people just don't want to put forth the effort to communicate and work on their problems. They give up. NEVER GIVE UP!
Since I'm a girl who will be getting married soon - I can't wait to read everyone else's advice!
2. If you could tell your 16 year old self ONE thing, what would it be?
Don't be in such a rush to grow up. I know all the adults tell you that when you're young and you automatically roll your eyes. When I was 16 I was an over achiever and a little boy crazy - I just wanted to move on to college like yesterday. I had the time of my life in high school, but I wish I would have known to savor it more. It's a special time in a girl's life!
3.
What do you do to keep cool in the summer? (AC, windows, fans, swimming, etc.)
Well I live with a boy so you know how they are about keeping that AC cranked up. I'm kind of a nazi about it though and I am strict on keeping it set on 70, and then using our fans to compensate.
4.
What did you (or your wife) crave most while pregnant?
Never been pregnant so I honestly can't say. My mom said that she craved pickles and chili with me. I love pickles and I used to just sit down and eat them by the jar when I was little. Chili I'm not a fan of.
5.
Who is your favorite TV mom? Why?
Ah I'm drawing a blank! I am drawn to a TV mom much like June Cleaver. I know that's not very realistic these days, but my mom is the complete opposite of June Cleaver. (I actually have a posted planned soon to tell you about my mom so stay tuned for that!) As a kid, my mom was different than the other moms, so I always just longed for someone who was sickeningly normal, like June.
---------------------------------------------------------
Happy Weekend friends! I am going to spend my weekend on the lake and I am so very excited about that! This girl needs a tan in the worst way.
To all you mamas out there, Have a Happy & Blessed Mother's Day!