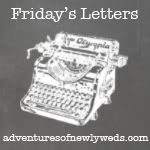 Happy Friday y'all! My girl Heather from RHONY couldn't have said it better! HOLLA!
Dear friends - Thank you guys again for another week of well wishes, prayers and support! I wouldn't be doing as well as I am right now without it. I mean it! XOXOXOXOX Dear girls night tonight - I can't wait to get drunk have fun with my homegirls while we make glitter wine glasses! I'm so excited. I'm sure it will look like a glitter bomb went off in my house but hey that's what girl's nights are all about, right?

Dear Zumba - I can't wait for our date bright & early Saturday morning for a little ass kicking. If you guys haven't tried Zumba yet, you need to. It's like a dance party but a workout. We do the wobble dance at my Zumba class and I always leave feeling like I left the club. Dear Duck Dynasty - I could not love you more if I tried. I literally watched 4 back-to-back episodes last night and laughed my butt off. Out loud. In the dark in my house with only the Christmas lights on. That's not weird is it?
Dear my new single lady budget status - I hate your guts. Being on a budget is no fun! I'm gonna have to start going on dates just to eat! (I'm totally kidding...sort of). Dear dirty hair - I'm so glad that my best girl Kelly introduced me to you! My hair is lucky if it gets washed once every 4 days now. Dear Vols - Are we going the Jon Gruden route or no for our coach? I'm just so confused! If I get a vote, then I say yes because he's kinda cute. Freckles, anyone?
Happy Friday loves!