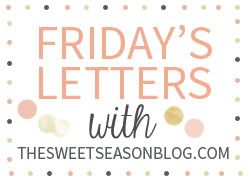 IT'S FRIDAY! yayyyyyyyyyyyyyyy! Who is ready for a long weekend??? Pick me, Pick me!
This morning on the way to work - The rainbow is a promise to us of God's blessings to come after a storm
My best friend is in town for tonight - the one who went to grad school in Iowa, she's moving back here very temporarily until she finalizes her new job plans. So nothing could bring me down today! I cannot wait to see this girl's face and hug her neck!!
Dear Humidity - I realize that I live in the dirty south, I get it - it's humid. You would think I would be used to it after 28 years...but it makes my hair frizz up and my face feel sticky. Ugh! Thankfully a "cold" front is coming through and for the next week we don't have a day over 75! Dear Weather - I kinda like this "cold" front! I have yet to turn on my AC in my house, and this week was pushing it when it was 81 inside. Thank you for saving me money on my energy bill! Dear Lake Season - I'm so glad you're finally here HOWEVER (and that's a BIG all caps however) my body is no where near bathing suit ready. We gotta work on this! I might need to invest in one of these -
Dear Nashville season finale - Holy cliffhanger -could you be more amazing?? I cannot wait until the Fall! If you guys aren't watching this show, you are missing out! It's my FAV! Dear bloggy friends - thank you for ALL your constant support of me with my roller coaster life! You guys always lift my spirits and you deserve a big THANK YOU!

Dear Memorial Day

-

THANK YOU to every single veteran who has sacrificed their time, energy, family, sanity and even their lives to serve for my freedom. We can never say thank you enough! Hug a veteran this weekend while you celebrate Memorial Day & don't forget those who are still actively serving our wonderful country!
Happy Memorial Day my loves!!