Hey Pink Growl Readers!!!My name is Amanda aka Manda. For those of you wondering who the heck I am, I blog over at
Adventures of Manda and Mr Howie
. I took over for the wonderful and beautiful, Ms Nikki, as the host for 30 in 30. I'm just stopping by over here to fill in for Nikki today while she's off playing Nashville...without me. You can't tell I'm a tad bit jealous, can you?? Anywhoo...enough about my turning green with envy.
Are you joining us? Have you joined us in the past?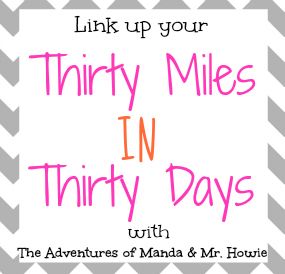 I'm so glad Nikki got me hooked on this! I seriously attribute me losing this last bit of weight to her. I think I'd still be stuck on my plateau if she hadn't asked me to start walking with her. Seriously! She's been so amazing to me through this whole process!
So, I was searching Pinterest for fitness inspiration and I stumbled across this!
via
How fitting is this when it comes to working out and our fitness goals?!? I've had so many people tell me they don't think they could do this challenge and so they aren't even going to try. You know what? Yes you can! So stop telling yourself that bull shit story!
Let me share a lil piece of wisdom I've learned this past year...
One of my favorite family sayings (yes this really is a family saying) is "You can't bullshit a bullshiter!" Now I've realized recently, you can't bullshit a bullshiter unless the bullshiter is you! Ok, let me elaborate for a second. You know how you can call someone else's bullshit at times, lies they tell to themselves or to someone else? Why is it that you can see when someone else is feeding you a line of bull, but you can't when it's you doing the feeding? When you stand in the mirror, you see everything wrong and convince yourself you are a) too big/too little, b) not pretty, c) you need to fix (fill in the blank), etc. We need to stop feeding ourselves the bs and build ourselves up!!!
So how did I do this week?
June 6: nada- rained
June 7: 1 mile walked
June 8: nada- roadtrip to somewhere special- will share soon
June 9: 2 miles walked
June 10: nada- sicker than a dog
June 11: 1.1 miles walked
June 12: 1 mile walked (too hot and muggy to do much more outside. Boo!)
Totals for this week: 5.1
Totals for this month: 15.25
So not as good as I would have liked, but due to weather and not feeling well, I'm glad I got in anything at all. I think this next week, if the weather stays ungodly hot, I'll definitely be making my way to the staff gym.
So how did you all do this week?
Do you need a little encouragement? Doesn't hesitate to let me know!!
If you don't blog, don't forget you can still link up with IG by using the hash tag #30in30junelinkup.
That way, we can still cheer you on!
Remember, this is not a competition. As long as you're moving, that's what really matters!
If you want someone to compete with...
Hope y'all are having a great week!
xoxo-Manda