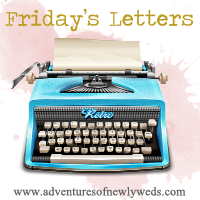 Dear Friday's Letters - I know I've told you this before but I really do love you! Thank you to all my new readers who have come over from the link up!
Dear New Sunnies - You are super cute and I'm so glad I found you at Marshall's for $7.99. I feel like a bargain queen! #knockoffavis what what!
Dear hormones - if you could go easy on me this weekend, I would appreciate it. I cried this morning when I heard an ad for the Wounded Warrior project (although a worthy cause for tears, I don't need to be getting that upset!) Dear fat belly - If you could quit eating everything in sight, especially all the horrible bad for you things I would really be happy! Dear Mind - if you could cooperate with aforementioned fat belly that would be nice. Dear Zumba - you and I will be a movin' and groovin' bright and early tomorrow morning so that hopefully my muscles will look tight for the lake! Dear Bud Light Lime-arita - I'm coming for you this weekend! (again with the fat belly!)
Dear Dougie - Teach me how and then get out of my head, please & thank you!