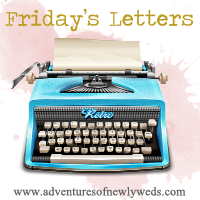 Dear Friday - I'm so happy you're here! This is the first full 5 day work week that I've had in a while and I need a weekend! Dear Weekend - Luckily, you're a 3 day one for me again this time around. Can't wait to meet up with you at our fav spot on the lake xoxo! Dear precious baby Gunner - it's amazing how easy it is to fall in love with a newborn. Even when you poop everytime I hold you.
Dear freezing cold office - if you could please quit making my leg hair grow so fast that would be totally awesome. Dear Channing Tatum - I really don't think that even you can make a cop mustache look good, and trust me that's about as good as it can look! (So glad that I'm not fighting this look anymore with my honey.)
Dear self - you did ok with the workouts this week but not as great with the eating. Let's change that for next week, k?
Dear friends - happy weekend!!!!!!!!!!!!!!