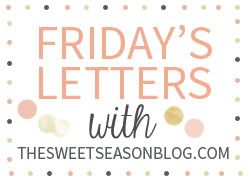 Dear "so-called" Spring Time - get with the program! 50 degrees is NOT spring. I want last weekend back with it's sun and 75 degree days. Dear Week - You were pretty good to me, so I can't complain...no major breakdowns, no cavities, 2 dates, joined a new small group and you flew by. Kudos! Dear Next Week - I am ready to conquer your little ass already! After next week, my work stress should end because the project I've been working on will be over Thursday. Plus, 4 day work week - HOLLLLLLA! Dear Girls Craft Night Tonight - I'm so excited to create a masterpiece! bahaha that's probably taking it a bit far...Here's what we are making so hopefully they will turn out fabulous -
Dear Mexican Food - I have a new lust for you. It's not good for my diet, but you are just so yummy to me these days. Dear Throwback Thursday #tbt- I got my brother good yesterday! His booty circa 1990 is now all over Instagram. He loves me!
Dear 30 Miles in 30 Days Challenge - I am coming for you strong this coming week so I can be proud of myself in my own challenge. Also, for those of you interested -

I will be hosting the link up again on Thursdays in April

. Let's challenge ourselves to get at least another 30 miles in before summer! For those more advanced who do like 30 miles in a week - I invite you to link up too! I just like reading the stories of all fitness levels for inspiration!
YAY FOR THE WEEKEND!!!!!!!!