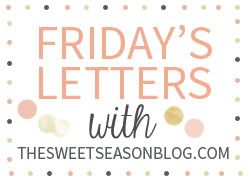 Dear Friday - I am so happy to sweet your sweet face! The sun is shining, I am kicking ass on Weight Watchers and my workouts and I am one happy girl today! (Probably annoyingly so) I am looking forward to a gorgeous weekend and watching my boo LB host the ACM awards Sunday night!
Dear April - I have set goals for you and you are going to prove to be a GREAT month of change for me. I can feel it and I love it! Plus, my sweet cousin will be turning 10 and my baby brother (who is not a baby) will be turning 23 this month. Gosh I feel old!
Dear Lake Season - You are so close...I can feel it. The weather is going to be in the 70's this weekend and into next week so that is extra motivation for me. I'm ready for day drinking and lazy sunny day on the water. Dear Sleep - You are amazing! Where have you been in my life recently? The past 2 nights I've gotten 8 hours of sleep and I feel so refreshed! Dear Yard - I know it's rained a lot recently, but ya girl doesn't mow so if you could stop growing weeds that would be just peachy.
Dear Prayer Warriors - Keep my mama in your prayers. I need to give you an official update, but her most recent PET scan still shows the cancer in her lungs (no longer in bones and lympnodes though!) so she's having to go through chemo & radiation again. Our relationship has very much improved recently so I am thankful. Dear Luke Bryan - yes, of course I will have your babies! :)
Happy Weekend sweet girls!