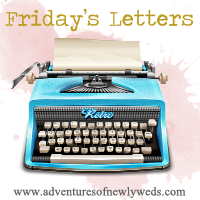 I'm a link up kinda girl. It's an easy way to meet new blog friends, and not really have to think about serious content. Plus, I see people linking up to this one ALL THE TIME so I had to try it out for myself. Join me over at Adventures of Newlyweds for Friday's Letters!
Dear lost diamond from my favorite earrings, you ruined my night last night! I lost you and I cried a lot. I hope that you aren't lost forever! Dear Norris Lake, nothing makes me happier than you! I can't wait to reunite with you tonight after work and this weekend for some prime sun time! Dear Luke Bryan, please come to a city near Knoxville so that I don't have to try and talk Skye into driving hours just to watch me lust over you. Dear hair, don't fret my pet you will be getting done next week. I know you look rough now but just hang in there for a few more days. Oh and PS if you could grow faster too that would be awesome! Dear blog friends, I really have hankerin' to meet some of you! Who wants to host a girl's weekend?? Dear Skye, I'm so glad you're finally off this weekend so I can love on you! Dear iPhone, why are you dying so fast lately? Dear Friday's Letters, I think I love you!
Happy Weekend everybody! I'm off Monday so I have a long one! I plan on getting some sun and spending time with my sweet pea so it will be silent around these parts until Tuesday. You know I'll still be lurking on Twitter and Instagram though!