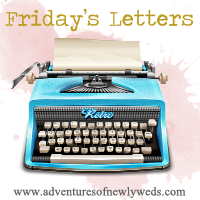 Dear Friday's Letters - You are definitely my most favorite link up these days. You are so popular and everyone in blogland loves you! So glad I jumped in and joined the fun a couple weeks ago. Dear 107 degree weather on Saturday - I sincerely hope that you and I can find an agreement where I can still be at the lake all day and not die. Thank you for your participation. Dear Fire on the Water - I'm so excited that it's time for your fireworks again this year!!
Pic from Fire on the Water at my boat dock
Source
Dear 'Merica - I love you! Thank you for being so great! Dear Wedding - So glad we could meet again last night and get some planning done. I am 98% sure I found my venue, even if it means changing my date by a week.
Hint about wedding
Dear engagement pictures in 7 weeks - you cannot get here soon enough for me. I literally am beyond excited! Dear lovely readers - thank you for always encouraging me & I hope you all have an awesome heat stroke free weekend!