Mal had this great idea to participate in this
fabulous fitness survey
from
Peanut Butter Fingers
. Talk about curing NOtiviation! I should be ashamed of myself with these answers! I am definitely not the poster child for a healthy lifestyle these days, but that's what this is all about right? Helping each other, even in the valleys.
Hallie
,
Mal
, and I would love for you to answer the questions, post them this week, and link up with us to help cure NOtivation (a lack of motivation). It doesn't matter if you're just starting out or already a fitness freak, these questions help you reflect on your current lifestyle and inspire others to make healthy choices!
1. What did you eat for breakfast?

Peanut Butter & Choc Chip Granola Bar
2. How much water do you drink a day?

I try for at least 72 oz, but I've been getting MUCH less recently.
3. What is your current favorite workout?

HIIT (Like Insanity workouts) or Zumba, I've been lazy so I don't want to think about organizing my workout I want someone to tell me what to do.
4. How many calories do you eat a day?

1200 is my goal, but again I haven't kept track much these days
5. What are your favorite healthy snacks?

Fruit!
6. What do you usually eat for lunch?

I used to pack my lunch everyday, but again with the laziness I've gotten away from that. I try to still keep it healthier with a salad or sandwich, but I'm not always successful.
7. What is your favorite body part to strength train?

Shoulders & Butt
8. What is your least favorite body part to strength train?

Biceps
9. What are your "bad" food cravings?

DIET DRINKS, Sweets

& Alcohol - Which I give into these cravings ALL THE TIME!
10. Do you take vitamins or supplements?

I take Vitamin D & Biotin everyday, I only take supplements when I'm consistently working out
11. How often do you eat out?

Lately it's been more than normal, but I much prefer to stay home and cook. Cooking for 1 is very difficult though, requires lots of meal planning.
12. Do you eat fast food?

Yes :(
13. Who is your biggest supporter?

Probably you girls!
14. Do you have a gym membership?

Yes, I actually have two
15. How many hours of sleep do you get a night?

I try to shoot for 7, but my sleep schedule is all out of whack right now. 3 hours one night then 9 the next.
16. Do you have a "cheat"
day?
I prefer cheat meals over full days
17. Do you drink alcohol?

yes, too much!!
18. Do you have a workout buddy?

I have a couple, but no consistent ones
19. What is the best thing that has changed about your life since committing to a healthy lifestyle?

When I am fully committed to a healthy lifestyle, I love the way I feel about my body and the confidence boost I get.
20. What was the last healthy thing you did?
Come link up your surveys with us until next Monday July 15th!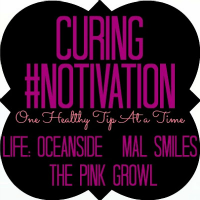 <div align="center"><a href="http://www.thepinkgrowl.blogspot.com/"title="Mal Smiles"><img src="http://i1280.photobucket.com/albums/a500/MalloryCollinsWhitt/Notivation20x200_zps2f02ec49.png" alt="Mal Smiles" style="border:none;" /></a></div>