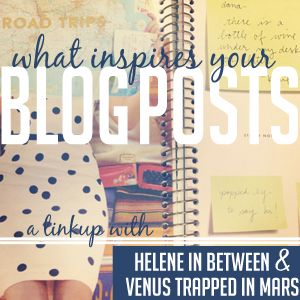 HOLA Hump Day Senoritas! Seriously the joy that hump day brings never gets old. Plus I just like saying hump day... Today I'm linking up with the fabulous Helene & the amazing Vol fan Ms. Sarah for What Inspires You!
My blog is a hodge podge blog. I guess technically, a "lifestyle blog", but I keep it real around here. No fashion posts...lots of Luke Bryan pictures, lots of sass mouth, Tilly pics, you know my style. My inspiration is ever changing, but here are some things that are currently inspiring me.
I blog about my faith and how that has helped me immensely in overcoming the struggles in my life. It's important to me, it fulfills me, and it keeps me hopeful.
Music is a huge source of inspiration for me. I am a big believer in the power of a song to take you right back into a memory. Like how every time I hear Rocky Top it takes me right to Neyland Stadium. Songs have healing power. I have a playlist that has helped me power through my breakup blues. You can get lost in the words, the meaning, the memory or just the carefree fun of a song.
These are some of my favorites this summer, that I know will always take me back to days on the lake with my brother and good friends.
I am obsessed with celebrities. I stalk them on Twitter & Instagram, watch E! News on my lunch break. I always want more celebrity news. Plus, it gives me blog fuel. Who looked good wearing what, who's hot, who makes me laugh. For instance, just watched this hot little number in Silver Linings Playbook over the weekend. Loved him, loved J-Law's character, loved the storyline.
I feel like I go on and on talk often about exercising/eating healthy/falling on & off the wagon/losing weight...etc. I think it's something most of us have experienced at some point. But let's be honest, I'm a single girl and something has clicked with me very recently that said "do you really want to look like this naked?" The answer is NO!! My current motivation is looking good naked.
Other Bloggers are a never ending fountain of inspiration. I have seriously made some best friends through blogging. Girls who connect with you on different levels of your life- the Southern gals, the ones who drink like I do, ex-engaged girls, gym bosses, fur mamas. It's so easy to form these connections with other bloggers. It's nothing short of amazing and you can always find someone when you need support and a muse. These relationships are life changing.
Here's my bloggy BFF's Cassie & Kim in Nashville back in January. I will be traveling to St. Louis to see them again in about 2 short weeks!! I cannot wait!
So come link up with these ladies and tell us what inspires your blog!