Happy Friday everybody! Boy do I have a treat for you today too! I am finally finished with my Part 1 draft of mine and Skye's love story and I'm going to post it for you this evening. I am super excited to share this part of our story with you all, from the get go. I hope you like it! Also, this weekend I should have time
FINALLY
to get my "before" bathroom pictures together for a post.
But for now, I will just give you some Tilly love.
I LOVE Fur Baby Friday! I know it's so stupid but I swear I look forward to
linking up
with Mrs. Monologues every Friday and showing you pictures of Sweet Tilly. I need to get one soon of Sadie Girl so you can see her pretty face too.
I actually have a double treat for you this week - so enjoy!
First, her face that only a Pom mama could love.
Then, her precious face that everyone loves.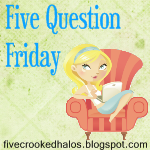 You know the drill here, come
link up
and get your 5 Question Friday on. It's fun!
1.
What's your favorite way to spend down time (alone or with a significant other)?
Playing with my dogs, reading, shopping, in the summer we are always at the lake, cleaning, Interneting.
I feel like I haven't had much down time lately, but this weekend I'm planning a full fledged clean-fest at mi casa. You don't even want to know the state my floors are in right now after all this rain we've had and little pup paw prints everywhere. Also, in store for this weekend, finishing the first book in the Hunger Games trilogy and posting my "before" bathroom remodel pictures for you to gawk at in disgust at the ugliness.
2. A
re you the kind of person that wants things more as soon as you know you can't have it?
Sometimes - depends on what it is. Usually I'm pretty good with the self discipline, but there are areas where I fall short. Diets I can usually tackle with ease because they are temporary. One thing that I know I can't have right now (at least until after June) is a vacation, yet what do I do every day? Get on vacation sites and browse. Win some, lose some I guess.
3. I
f you were given $1000 to spend on yourself, what would you buy?
Work Clothes, Extensions - I'm on this kick of wanting hair extensions right now, Tanning Bed Package because I'm a pasty little ghost, and some sessions with a personal trainer so I can get bikini ready.
4.
Do you ever go out to eat by yourself?
I have never been to a sit down restaurant by myself to eat. I have briefly sat in a fast food type of environment to eat alone, but I don't even like that. If I'm lacking on lunch plans while at work, I will run through a drive through and either read a book in my car when the weather is nice or catch up on phone calls with friends. The only thing I really like to do alone is shop sometimes.
5. W
hat company would you want to do a blog review for?
Any makeup company or hair products. I love that stuff and I'm always trying new things and looking for the next best thing.
-----------------------------------------------------