Howdy - Yesterday felt like the longest day of my life! However, today is flying by and that makes me a happy girl. We have a long weekend with President's Day off and then I'm also off Tuesday & Wednesday. We are packing our snow gear and heading up north (just a little) to West Virigina to do a little snowboarding. I'm super excited because we've had an extreme lack of snow here in East TN this winter, and I've really missed being on the slopes. I haven't had 5 days off since last July so I won't know what to do with myself! Also, this weekend I'm hoping to finalize all my color selections for my
bathroom redesign
. I swear one day I'm going to post those damn "before" pictures.
Also, coming soon - I've been working on writing a 3-Part Series about our Love Story. I guess I was inspired by all the lovey Valentine's Day posts. I've thought of doing this for a long time and I'm finally doing it. I'm done with Part 1 and it's been more fun than I anticipated to take that walk down memory lane. It's sweet to remember how it all started 7 years ago. STAY TUNED!
I really love the Fur Baby Friday idea! I know that most of you have kids, but I don't and my fur babies are my kids so I love showing them off. Hop on over and
link up
with us!
Sweet Tilly in all her glory - just as lazy as she can be.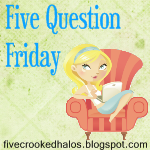 1.
What do you do when you are really upset to calm yourself down?
I have really found that working out is a such a great release for me. It's an automatic stress reliever, plus it usually puts me in a much better mood after from my adrenedline rush.
I know this is horrible because it's the polar opposite of my first answer but secondly, if I'm feeling upset I really like to vent and indulge in a milkshake. Then go workout :)
2. D
o you go all out for V-day or is it just another day?
I don't think that we have ever been out on a romantic V-day date. As I mentioned in my V-day post, we are not really big into celebrating for Valentines. I never have been so luckily, I don't set the bar very high. I know we've been out to dinner before, but my brother was with us. This year Skye was working night shift and had to leave home by 9 so we kept it very low key. I'm perfectly ok with that though.
3.
Are you more or less productive when Hubs is away?
We'll just go ahead and pretend like he's my Hubs...since he practically is.
Usually more productive. I definitely prefer to get all my cleaning, laundry, etc done while he's gone. It's just easier with no interferences. However, we are still getting all settled into shift work so if I don't see him for a week or so, I get very non-productive. I've learned an interesting fact about myself that I'm much more boring when he's not around.
4. W
hat is your favorite time of day and why?
Morning! I'm a morning person all the way. Just not quite morning person enough to get my workouts in before work - but that's my goal!
5.
What is your go to karaoke song?
Funny you should ask because we went to sing karakoe last Saturday night! I'm usually more of an observer, but I've been known to get a little too much alcohol in me and attempt a song or two. Typically I go for a country song like Carrie Underwood, Before He Cheats. I know I've tried that one. Miranda Lambert would work too. I definitely steer clear of any ballads, or songs that require greater singing skills than I possess. Skye loves to sing karaoke and his favorite song is Warren G, Regulators. It cracks my ass up. He always wants to sing it, every single time we go. Love him!
----------------------------------------------------
Happy Friday - Have a great weekend!