Happy Friday - Thank the Lord this day has finally come! Last night brought me absolutely no sleep (the reason why is a story for an entirely different post), and today is a 12+ hour work day for me. I have a feeling that I might be a little grumpy tonight - based on last night's events, lack of sleep and feeling slightly over worked this week. I need a weekend like it's nobodys business!
One thing that does make me happy is posting here, especially when it's about my favorite girl Tilly!
I'm linking up again this week with
Mrs. Monologues
, for the 2nd week of Fur Baby Friday! I love this idea because as you can tell, I'm obsessed with my sweet furry girl. Come link up with us and share pictures of your sweet furry friends!
I snapped this last night while Tilly was mid-lick. She's a licker that girl. She actually licks the air all the time and it's quite funny. I think the poor thing has OCD about it or something. She's definitely her mama's girl!
You can't help but love her!
Next up, the usual Friday link up with
Mama M
for 5QF!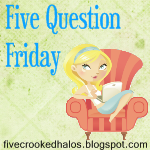 Special Shout Out to my friend, Erin, for getting one of her questions on the list this week!
1. How often do you shave your legs in the winter?
I love this question because you know we are all like never! Unless you live in Florida where it's probably still warm enough to show off legs this time of the year. I try to shave every week in the winter, but my leg hair isn't the pokey itchy kind and it's pretty light colored so you can't really tell when I go longer. I did notice at the gym the other day while I was wearing capris that it's definitely time for a little shave!
2.
Valentine's Day cards for your spouse: funny or romantic?
Depends on the year. I've done both. This year for Christmas I did a funny card, so I will probably go with romantic for Valentine's. We are not big V-day celebraters though, so I don't think it really matters to him either way.
3.
What are you most looking forward to about spring?
wearing cute open toe shoes! That's always my favorite about spring! And getting some color on this pale winter body.
4. W
hat's your favorite way to pamper yourself?
A massage and a mini shopping spree would be a day of my dreams. I need work clothes so bad it's not funny. My work pants are all so baggy and saggy - which is a great problem to have, but I just haven't bought new ones in a while. When you've lost weight you want people to be able to tell and wearing pants that are 3 sizes too big is not the way to show off.
5. D
oes your tax return go into savings or do you spend it instantly?
Mine always goes towards a special purchase I've been eyeing but didn't want to dip into savings for.
This year it will be used for my exciting bathroom re-design project. I took some "before" pictures last weekend but haven't had time to put them up this week...so stay tuned for the ugliness before the duckling reveal.
-------------------------------------------------