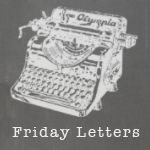 Happy Friday y'all! This week has been a whirlwind for me, and yesterday I thought it was Friday. So today it kinda feels like I'm working on a Saturday and that sucks ass. The Vols have an open week this weekend so I will have some time to enjoy the weekend off with my honey.
Dear Halloween Party this weekend - I have no idea what my costume will be yet. It feels too early for a Halloween Party, but it's the only weekend Skye's squad has off this month so we will be a partyin'! I reeeeally want to be a glittery unicorn for some reason. Dear Color Me Rad 5k- I'm sooooooooo excited for tomorrow! I cannot wait for this awesomeness to go down! I hope I am not that slow poke in the back holding up the end of the race. All these colors might just provide me with extra oomph for my Halloween party!
Dear Pinterest - I'm still madly in love with you, but I did have my first Pinterest fail this week. My chevron pumpkin failed miserably. It looks hideous. I didn't even take a picture to show you...that's how bad it is. Dear Save the Dates - you came in today! YAY! Now we are officially giving people our date to save. It's pretty legit! No turning back. Dear Facebook - I will be avoiding you for a while because I can't stand the ugly political comments. We are all entitled to our own opinions, but there is no need for all the hate. NOH8 people! Dear Bachelorette Party - the weekend is booked! It makes me so excited to have all my besties in one place!
Happy weekend! The weather here is supposed to turn fall-ish this weekend and I'm ready for the leaves to change. October is a gorgeous time of year in the Smoky Mountains!