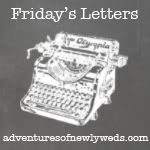 Dear Sickness - Get the hell outta my body! I've had a sore throat/cough/sniffles for a week now. It's been real but it's time to move on. Dear blog friends - Thank you so much for your kind words this week on my Wedding Wednesday post & the sweet birthday wishes for Ms. Tilly! You guys are the BEST! Dear East TN Weather - Get it together! It's was 81 yesterday and you're telling me the HIGH for Saturday is 57? I like 81 better!
Dear $1 Large Diet Cokes from McDonalds - Thank you for getting me through this week! You have been a lifesaver! Dear Iowa - I am so excited to meet you in one short week! I very much need a break from reality and some girl time with one of my BFFs!
Happy Weekend lovelies!