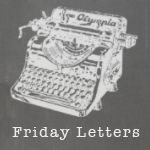 Dear FFFFFriday - I'm so glad to see your gorgeous face! The colder weather brings long & busy days in my work environment so this week has been a doozy. I need a drank! Dear Vols - You must beat MissState! It's a must win game. Quit breaking the hearts of all the Big Orange Fans and win like we know you can. Dear Dead Computer - you can kiss my booty because my amazing fiance ordered me a MacBookPro last night! It will be here next week! I'm sooooooooooooo excited! This girl will be back in business in no time! Dear Amazing Skye - Thank you for this awesome treat! And thank you for surprising me by taking off work tonight so we can hang out with friends we rarely get to see! You are too good to me! We are going to a haunted corn maze so hopefully I don't pee in my pants.
Dear blog friends- I can't say enough how much I cherish the relationships I've made through blogging. Look what my sweet friend
Carley
sent me in the mail this week. Totally made my week! She's a doll!
And I got this fabulous little goody in the mail last night from Paige! Check out her etsy shop if you haven't already. I can't wait to use them!
Dear any bloggy friends who live near Iowa City - I'M COMING TO VISIT!! Yes, I'm talking to you Hawkeye & Steph! Mark your calendars because Nov 2 it's gonna go down!
Dear weekend - let's do the damn thang!