Are you obsessed with your animals like we are??? Come over to
Mrs. Monologues
and link up with us.
I have a special treat today for Fur Baby Friday link up. I have a picture of the girl that I hardly ever show off, Sadie. We've had Sadie for about 4 years now. She's a pound puppy, and they said she was a husky mix. Not sure what exactly she's mixed with, but they told us either rottweiler or Australian Sheppard. We immediately fell in love with her because her gorgeous baby blue Husky eyes. She came into our home as the little sister to our previous Pom, Roxy. (I will tell you Roxy's story another time) Now she is a big sister to Tilly. A really good big sister too! The only negative thing about this dog is her 300 layers of fur - that's the Husky in her. She sheds like you wouldn't believe - hence, she doesn't get as much inside time as Tilly. Sadie is our very own 70lb lap dog! I wanted to show her off a little bit, because Tilly typically gets the spotlight.
Also, quick note that I am venturing out this weekend to take Tilly to her first
Mardi Growl
. It should be interesting!
Sadie's sweet puppy face the day we brought her home
Excuse the glare, I took this picture of the picture I have my in office.
Sadie last weekend sunbathing in our backyard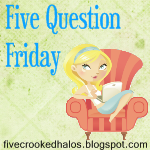 Next, it's 5QF with
Mama M
over at My Little Life.
1.
Where is your favorite vacation spot and why?
Hmm...my favorite vacation spot that I've ever been to (so far) has been Grand Cayman Islands. It was drop dead gorgeous there, plus I got to swim with the dolphins and sting rays there. Mexico is probably a close second.
I love any type of beach vacation and I can't wait for mine this summer!
2.
What is your biggest guilty pleasure?
Reality TV hands down 1000%! I am obsessed with The Real Housewives - all of them. I couldn't tell you why this show has sucked me in so much but it has and I can't (and don't want to) stop watching. It can be time consuming because they like to show two seasons at a time so that's two nights a week I spend watching the shows. I have 2 episodes just lingering on my DVR right now and it's about to kill me that I haven't had time to watch them yet.
Oh, and Chick-Fil-A chocolate milkshakes. They are beyond delicious!
3.
What is your favorite fashion trend right now? Or, in the past?
My favorite trend right now would either be Toms or the minty-turquoisey-blue/greenish inspired jewelry pieces. I love my Toms, they are the most comfortable shoes. I wish they would make running shoes that feel like that! And I've seen a lot of turquoise/mint color variations with jewelry lately and I'm loving it. I can just imagine those colors on sun kissed skin looking fab.
4. W
hat are your spring break plans?
That would have to mean I actually got a spring break. I'm all for doing spring break in the workplace!
If I did, have a spring break getaway it would be running away to a beach for a week. It's been so rainy here this winter and I could definitely use a big dose of Vitamin C from mother nature.
5.
What baby names do you hate?
My name is actually Nicole - I just go by Nikki. I HATED having the name Nicole when I was in elementary school. I think every other baby girl born within the 1980's was named Nicole. It felt so common and boring!
I like a good strong unique name. It doesn't have to be too crazy - like the celebrities get sometimes - just something you wouldn't hear everyday. I guess my answer would be I dislike overly common names. (Sorry if you have one of these - but it's ok because I do too!) Like Amanda, Kelly, Lauren, Nicole - I actually just named my circle of friends haha!
----------------------------------------------
Happy Friday everybody!