Happy Friday loves! It's supposed to rain here all weekend, which sucks, but I totally plan on doing a couple little home improvement projects that I can tell you all about next week. Wish me luck, cause I will need it! I have a new found love for meal planning and I've been cooking lots of new recipes so I'm also going to be doing a little of that. Oh yeah, and maybe a little wedding planning too.
It's that time again peeps and I'm ready to see those fur babies! This week I am showing you how my sweet Tilly likes to sit on the couch cushion like a human. She's a very unique little pup. And Lord knows she sure is cute! It's about time for my girl to get her summer lion cut and I can't wait to show you the pictures. I love it when poms rock the long hair, but it requires lots of brushing and maintenance. Plus, my little one loves to play outside and she gets so hot in the humid TN summers with her long hair. PS - notice that black streak on the end of her tail? It looks like she just dipped her tail in black paint.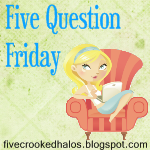 1.
If you were free to just hop in the car and drive, where would you go? Or, if you could hop a plane and go anywhere, where?
I would love to be able to hop in the car and just get away this weekend. I'm really feeling like a need a break...a beach break would be AH-MAY-ZING! However, the closest beach is probably 7 hours away and that's not good for me! So maybe I would drive myself down to ATL for some retail therapy because I've had a very stressful week. If I could hop in a place and go anywhere, it would be somewhere tropical. Mexico maybe?
2.
What's your most recently read favorite book?
3.
What's your favorite Spring Break memory?
My favorite spring break memories are from high school. I was in Showchoir and every year we would go to Disney World for spring break to sign in a competition. It was so much fun to go to Disney World for a whole week with 30 of your best friends. We would bus down, which is like an 11 hour drive, and you know that nothing can replace the memories made on a bus trip when you're 15-16-17 years old.
4. W
hat do you put in your child's Easter basket? Or, for those w/o kids, what was put in your childhood basket?
I always had the BEST Easter baskets. I would get one at home, one at my grandparents and one at my aunt's house. Spoiled much?? My brother and I would get toys, sometimes clothing items, enough candy to give you a belly ache for a week, books, cds. My favorite thing was always the big chocolate bunnies. The hollow on the inside ones with the colored eyes you can eat? OMG, LOVE those!
5. Do you get a summer haircut?
I get my hair trimmed usually every 6-8 weeks so there's always a summer trim in there. I think it's pretty typical to go lighter with your color in the summer too. I'm going next week to get my hair done and I can't wait to be super blond for summer!