Well I must say that Friday is my favorite day of the work week. Obviously because it's the last working day of the week! AND because I so look forward to Fur Baby Friday! Come link up with us and show off your furry faces.
I have a special picture to share with you this week of Tilly! It's from last Saturday when I took her to her very first Mardi Growl. It's an annual parade/festival so we will definitely be hitting it up again next year. She had a complete blast! Mardi Growl is hosted by Young Williams, which is my local animal shelter. They had an official photographer taking pictures for the official event photo album. Well guess what? My pretty girl made the official album! Yep, that's right she's a star! :) If you follow me on Twitter or Instagram then you might have already seen this, but I can't help it - I'm a proud fur mama! That thing she's licking that looks like a bottle is a new mess free treat they were testing. It's called Lickey Stix and it's a liquid that tastes like a chicken flavored dog treat with a roller ball they lick. Tilly went nuts over it.
In other business...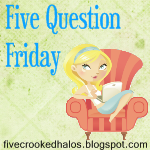 1.
Are you looking forward to the time change this weekend?
YES, Yes & yes! I love when it's lighter when I wake up and stays lighter longer. I feel more energized to get things done after work during spring forward time. Plus, the spring time in East TN is just beautiful with all the dogwoods and other blooms.
2. A
re you getting the new

iP

ad

/would you want a

iPad

?
I am not getting one. I would not be opposed to buying one, but I would rather have a MacBook instead.
3. I
f money was not a problem, what is the one thing you would

splurge

on?
A lake house! I would probably use that more than my regular house.
4.
How did you and the Mr. (or Mrs.) meet?
Funny you should ask! I've been writing a 3 part series here on the blog about Our Love Story.
Check out Part 1 & Part 2 if you are interested in teh full story. Part 3 is coming next week!
5. S
ummer

is right around the corner. Bikini or one-piece?
I'm a bikini girl. I like being tan and with a one piece or a tankini you have a white belly! Speaking of bikinis I need to hit the gym hard tonight!
This is reallllllly making me want summer to be here...like now! Happy Friday lovelies!