Okay let me just first start by telling you that Blogger has finally made me switch over to the new dashboard as of 5 minutes ago...so if this post looks funny or different that's because I have no idea how in the hell to use this thing yet! Bear with me.
Next, have you entered for my first giveaway yet???? You need to and you need to tell a friend! :)
If you know someone who is looking for a new blog redesign at a great price, send them this way to enter!
Click here to enter.
Moving right along...to FUR BABY FRIDAY! I'm have a major headache today, so it will do me some good to see some cute little fur babies. Show me your fur baby! :)
These 2 crazy sister pups would not stop wrestling in the back yard the other day....They were literally attacking each other for about an hour. AH sisterly love!
Crazy pup #1 Sadie girl

Insanely crazy pup #2 Tilly - Love this one because she's smiling after her wrestling match with Sadie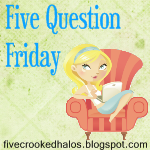 Next up, I missed 5QF last week because I was being lazy so I'm back at this week. Come on over to
Mama M's
to link up with us and meet some new blog pals.
1.
Groceries are high right now what is easiest way you have found to cut back?
I have actually been packing my lunch for about 2 weeks, which has really helped save me money & daily calories. I've lost 3 lbs this week! whoot! Other than that, I'm not a couponer so I just try to buy off brands and things that are on sale. I've been cooking up a storm lately so that's helped save money too vs. eating out constantly.
2.
What are the top 3 things on your "bucket list"?
Sky Dive, Explore Greece & Alaska and run a 5k
Hopefully I will skydive this year - some of our friends are going and I'm totally going to invite myself. And I am potentially running a 5k in ONE MONTH. I need to get my butt in gear for that! I know a 5k does not seem challenging to all your runners, but for me it's an accomplishment. It's exciting to check things off my list though.
3.
Would you rather give up AC or heat?
HEAT! You can always put on a jacket if you're cold, but you can't exactly just strip down when you're hot.
4.
What's your favorite cocktail??
This doesn't have a name - that I know of - Vodka, pineapple & orange juice. It's delish! I've also recently become a fan of Caribolous(pronounced Cara-boo-loo) too. I have no idea if that's how you spell it, but I know that it has 151 in it and pineapple juice too.
5.

What was your first job & how old were you?


My first job was working at Abercrombie & Fitch at the mall when I was 18 years old. I worked there off & on for my first year in college and I loved it! My parents never made me get a job in high school, so that was an easy job to start my way in this world.
Skye is off this weekend so you will NOT be hearing from this girl! I am going to be taking advantage of our time together. We are going to look another potential wedding venue and putting the boat in the lake for the first time this summer so it will be an exciting weekend.
Hope you have a great one too!