TGIF - Am I right? Especially Thank God for Good Friday! I am going this afternoon to check out my first wedding venue! I am so excited about it! For those of you who are stuck working today, I hope this provides you with some entertainment for your workday.
I want to offer you a throw pack picture of Tilly today for Fur Baby Friday. This picture of my girl is from the first week that we had her. You can obviously see why I instantly fell in love. My girl was rocking some serious Snooki poof. Luckily, she grew out of that. She puts the fur in fur baby haha! Come link up with us over at Mrs. Monologues for Fur Baby Friday!
Next up, 5 Question Friday with Mama M at My Little Life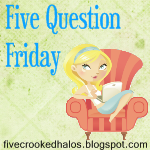 1.
Would you prefer having people over for dinner or going to their house?


I would say it just depends. We have a "family dinner" every week with a close group of friends and we usually keep it at one couple's house. However, every now and then we host it. I'm up for either really - as long as I have enough time to clean my house if company is coming over.



2. Favorite Bible verse and why?


Romans 12:12 "Be joyful in hope, patient in affliction, and faithful in prayer." This verse just spoke to me the instant I found it. It's simple, yet true.



3. What was the first concert you ever attended, and the most recent one?


New Kids on the Block was my first. My dad took me and let me sit on his shoulders almost the whole time. I'm sure it was a blast for him! I was completely in love with Joey McIntyre and had the time of my life. The most recent concert was last May with Zac Brown Band. AH-MA-ZING! He was awesome in concert and I had so much fun! I love concerts and I can't believe it's been a year since I've been to one. I smell a road trip!

ZBB concert - May 2011 - Smokies Stadium




4. The year is 2025. What are you doing, and what have you done?


Oh wow - I'm going to be 39 that year and I don't even wanna think about that! Hopefully I will be happily married for 13 years with twin boys. (maybe - I go back and forth on this). I hope to be an amazingly successful (rich) business woman. Maybe even still a blogger!
5. What's your favorite Easter treat?
PEEEEEPS! I love love love peeps! I saw something on Pinterest about how to make Peep smores and you better believe that I have that planned in my activities for this weekend. Yuuummm! Also, this year I found choclocate covered peeps!
Happy Friday y'all!! I hope everyone has a blessed Easter weekend!